Veggie CageŽ Tomato Cages
Our tomato cage is unlike any tomato cage you have seen or used before!

The revolutionary Veggie Cage is a spiral shaped tomato plant support system that eliminates tying and offers a more functional alternative to traditional tomato cages.

It expands to 7 feet tall without the risk of falling over. And unlike the traditional tomato cage, the Veggie Cage is made from a durable "garden green" polypropylene material that literally disappears into your garden.
If you enjoy growing your own tomatoes, but dread the chore of tying the plants to a tomato stake . . .

If you've ever had to chase around tomato cages after a spring storm . . .
If you're frustrated with tomato cages that only support the bottom half of your tomato plants . . .
If you want an attractive alternative to metal cages . . .
... you'll love the Veggie Cage
Benefits of the Veggie Cage:
System expands up to 7 feet. When properly staked, your tomato plants will never fall over.
Avoid tying and retying through the tomato growing season. Our tomato cages encourage the plants to naturally conform to the shape of the cages.
Constructed of a "garden green" polypropylene that literally disappears within the foliage as the plant shoots skyward. In addition, this system is crafted from durable plastic that will not rust as the metal tomato cages experience.
Durable enough to last many growing seasons.
Collapse the tomato cage system back to nearly-flat for easy and compact storage. You will then be ready for another season of effortless plant support.
Works great for peas, snow peas, cucumbers, dahlias — even a freestanding "morning glory tower".







Set up and
operation of
this tomato
cage couldn't
be any easier!
Our top-mounted adjustable clamp allows for a firm connection at the top of a pole.

The natural flexibility of the Veggie Cage coil design will easily stretch to cover the length of a 7-foot tall pole. This makes the Veggie Cage a "one of a kind product".

The Veggie Cage's anchor peg allows for firm attachment into the ground ensuring a solid upright hold in violent summer storms.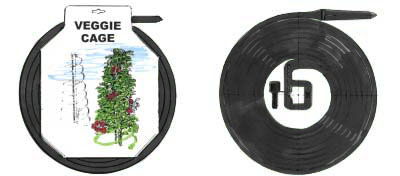 Collapses to a
flat coil for easy
and compact
storage
We are no longer accepting
orders for this product.