Use Veggie Cages as Plant Supports
Veggie Cages can serve as vegetable garden plant supports or flower supports just as well as they can be replacements for traditional tomato plant stakes or cages. They are marvelous for providing support to any type of plant or flower that yearns to grow tall.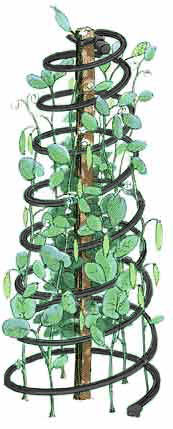 They serve as excellent plant supports for vegetables like:
Peas
Cucumbers
Snow Peas
Veggie Cages limit loss by helping to keep your vegetables off of the garden bed.

As flower supports, they are wonderful for Clematis, Dahlias or for creating beautiful standing Morning Glory towers. The green plastic cage blends in with the flower and does not detract from its beautiful appearance.

Click here to read how easy these plant supports set up and collapse for flat convenient storage.
Veggie Cages are the most functional and attractive supports for many varieties of vegetables and flowers. You will be amazed just how well they work.
We are no longer accepting
orders for this product.